The Top Three Reasons Why Installers Love the CORE1 Commercial Solution from SMA!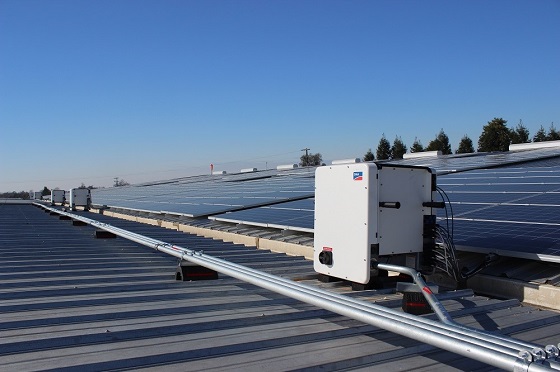 Since its introduction, SMA's Sunny Tripower CORE1 has been taking the commercial market by storm. Now with expanded features and functions, installers have even more reasons to appreciate this truly unique commercial PV solution. We compiled the top three reasons that have installers shouting their praise from the rooftop. 
 #1) Additional power classes and options for repowering
SMA has expanded the Sunny Tripower CORE1 product lineup, building on the successful 50 kW model, and now offers both larger and smaller options. With the 62 kW power class, installers can utilize higher Wp modules while achieving a lower installed cost- per watt in larger rooftop and ground mount installations. This unit produces more power in the same size form factor, so installers retain all the transportation, logistical and installation efficiencies that have become the hallmark of the CORE1 solution.
Many aging commercial systems suffer from underperformance due to a variety of issues. This opens up a new revenue stream for installers to repower these legacy systems and bring them back to full health. However, finding replacement inverters in a market that has gone almost entirely to 1,000 V equipment can be difficult. Have no fear, the CORE1 33 kW is here! This smaller power class operates at 600 V and is the ideal solution for repowering distressed commercial PV plants. Installers love being able to compete for new (old) business with this solution from SMA.
The entire CORE1 lineup still offers the fastest commercial installation with twelve direct string inputs, six independent MPPT channels and integrated AC and DC disconnects. All power classes also include advanced grid management functionality including compliance with California Rule 21.
#2) A cost-effective option to meet NEC 2017 requirements
There are various methods to achieve compliance with NEC 2017 690.12 rapid shutdown requirements. Once such method is to use power optimizers throughout the array. However, costly power optimizers scale poorly in commercial arrays and provide limited benefit beyond shutdown. SMA provides the most cost effective solution to this challenge with the TS4-R-F module-level shutdown device. This solution utilizes the power line based SunSpec communication signal for rapid shutdown, making it simple to implement with robust functionality. No additional communication hardware is needed because the shutdown transmitter is integrated within the CORE1, reducing cost and speeding installation.
#3) Smart service technology that saves time and money
Truck rolls can eat into an installer's bottom line and should be minimized in order to focus on new business and other revenue generating activities. The CORE1 lineup features an innovative new technology called SMA Smart Connected that can cut service truck rolls in half. This proactive solution provides continuous system monitoring and automatically alerts an installer when an event is identified. What's more, SMA Smart Connected will send the installer troubleshooting tips in order to expedite servicing. If a replacement inverter is needed, the RMA process is automatically initiated so the installer only needs to make one visit to the site. Alternatively, if there is simply an issue with one of the inverter control boards, that component can be shipped to the installer for replacement. This expedites the repair process and further speeds servicing onsite. SMA Smart Connected is powered by ennexOS, the Intersolar Award winning solution for cross sector energy management.
https://sma-sunny.com/wp-content/uploads/2020/10/US-CORE1-560px.jpg
372
560
Alexandra Alejandro
/wp-content/themes/enfold-child/images/SMA-LOGO-Color_s-1.png
Alexandra Alejandro
2019-01-24 14:12:38
2020-11-02 15:04:35
The Top Three Reasons Why Installers Love the CORE1 Commercial Solution from SMA!