How to Find and View your PV System on Sunny Places?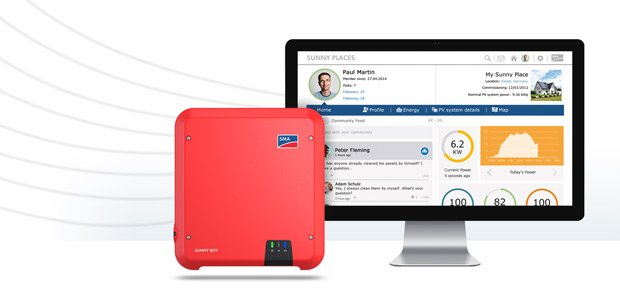 Some of our customers who want to benefit from the free services we offer on Sunny Places might wonder why they can't see their systems on Sunny Places the same way they do on Sunny Portal. In this short article, we will guide you through a few steps on how to view your system on Sunny Places so you can make use of all the monitoring, comparing and sharing features that are only offered there.

1.) Make sure your system is already viewable on Sunny Portal.
Do you already have an account on Sunny Portal where you can view your system? Or did your installer invite you to Sunny Places?
Yes? Please continue
No? You'll need to first register your system at Sunny Portal or ask your installer to register your system and invite you as a Sunny Places user.
2.) Simply link your Sunny Places account to your Sunny Portal account.

If you were not invited by your installer to Sunny Places but can access your system on Sunny Portal.

a.) On our Sunny Places homepage click on "Assign a PV System from Sunny Portal"
b.) A pop-up window will appear, enter your Sunny Portal login data here (email address and password).
c.) If you entered the data correctly, you should instantly see your system on Sunny Places.
d.) In some cases, you may need to retry logging into your system by using the Settings menu and choosing List of PV systems, then if you are still not connected to your PV system try re-logging into List of PV systems.
If you have received an invitation to Sunny Places from your system administrator or installer, you do not need to go through this process as this means they have already assigned you as a representative in the system.
3.) Authorizing your system to be viewable on Sunny Places.
What could be the problem?
During system installation, the administrator has the option to allow or prevent  access for your system to be viewable on Sunny Places. How this can be fixed?



Login to your Sunny Portal account.
On the menu: Select Configuration then PV system properties, on the top navigation bar, click on Data Releases tab, then Edit, tick the mark to authorize Sunny Places and save.
Now log back into your Sunny Places account, relink it to Sunny Portal, and you should now see your system.
If it still doesn't work for you, feel free to ask us here and we'll do our best to help.
https://sma-sunny.com/wp-content/uploads/2017/02/Webconnect_sunnyplaces_sunnyboy-2.jpg
300
620
Viktoria Mai
/wp-content/themes/enfold-child/images/SMA-LOGO-Color_s-1.png
Viktoria Mai
2017-02-08 16:06:59
2018-02-12 12:13:59
How to Find and View your PV System on Sunny Places?